What to Expect from The Seminar:
Hear the REAL reasons as to 'WHY" children and teens bully (provided by Students, not University academics)
Address the CORE reasons as to why children bully, rather than providing the customary appeals and 'zero tolerance' lectures.
Learn a CONVERSATIONAL MODEL that teachers can employ in the classroom that has the potential to change the culture of bullying in a class or a school.
Be a more influential teacher in addressing bullying by EMPOWERING the silent majority (or bystanders) to take a stand against bullying.
Apply this conversational model to address ANY contentious issue that may surface among Students, including CYBER-bullying.
Have some 40-plus LESSON PLANS which can be used with students to address the CORE issues associated with bullying.
Since 2012, some 20 international schools in Seoul, Beijing, Suzhou, Shanghai, Xiamen, Hong Kong, Singapore, Jakarta and Hyderabad, have had their teachers trained through repeated invitations to re-visit their colleges. Employing a Cognitive Behavioural Therapy (CBT) approach, teachers have declared that this method 'really works' as it addresses the core reasons as to why children bully.
Some Testimonials
'I was pleased that I wasn't deluged with mountains of the latest statistics; we all know that bullying exists. As a teacher, I want to know what I can do about this in an educational manner and in the short amount of time I can devote to it. Robert's seminar and the process he teaches achieves this.' (Australian Teacher)
'Even though Robert had not met our Year 10 girls, he told us what their reasons for bullying are. Then when he demonstrated his lesson with a group of Yr 10 girls, they said exactly what he said they would say! I was flabbergasted. Finally I have a method that works and is usable in the classroom.' (Singapore teacher)
'I have been a teacher for 27 years and have never been trained to address bullying, apart from writing yet another 'zero-tolerance' Policy Statement. The process that I was taught will be useful for the next 27 years as human beings will continue to be human beings! (New Zealand Teacher)
'There is no question that Robert's approach has had a lasting impact on our school. We have had him return on three occasions as more and more staff have valued his approach. In the words of one of our teachers: - 'this has been the most valuable professional development I have ever received.' (Canadian Counsellor in Hong Kong)
'Just a few days after Robert's workshop, staff felt confident enough to address bullying in their respective grades. This is a 'must' PD for all teachers (Shanghai Deputy-Principal)
'At the end of the 2-day workshop I definitely feel enriched and empowered to handle the complexities of bullying in a more constructive way. (Senior coordinator – Hyderabad, India.)
---
To make a booking, please email:
robertpereira32@bigpond.com
Mobile:
0409-275-863

Bullying ... who is to blame?... how long will it last? ... why is my Child being targeted?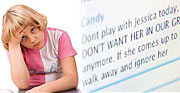 Cyber bullying is a secretive and growing behaviour among children and teenagers. It has replaced the piece of paper that used to be passed from student to student across the back row of a class-room while the teacher wasn't looking. This new medium has enabled a victim of bullying to be targeted in her own bedroom and at any time of the day or night. Teachers are often unfairly blamed for not responding to bullying in school. The reality is that most teachers are unaware of any animosity between two girls or groups of girls, as teachers have no control over what a child/teen is engaged in while that child/teen is at home in her own room! Yet teachers are blamed.
Teachers are an important resource in the reduction of bullying in schools. Bullying will never be totally eradicated. As bullying is a social problem, it cannot be fully addressed through the individual counseling of the victim. The perpetrator of bullying is often immune to counseling. The key to successful bullying education in school is the empowering of the bystanders, according to Michael Thompson, author of the book 'Best Friends, Worst Enemies.'
No statistics will be supplied at any of Robert's seminars on bullying. Sufficient statistical research has been done. Statistics doesn't necessarily provide a teacher or school with a proactive plan to respond to bullying. And while a more severe discipline policy may provide a school with a sense that the school is taking bullying seriously, policy on its own changes little, apart from making bullying more covert.
Robert offers Bullying workshops during Pupil-Free Inservice days as well as lessons with Students of different grades in Gender Groups.
Robert also offers Parent seminars.
Focus and outcomes of a Staff Inservice Day:
Teachers will
have a better understanding as to why children / teens bully one another
have a model that they can use in the classroom to engage in conversation with students
that has a better chance of bringing about cultural change in the class and/or school
have some 40-plus specific lessons to use with children that students themselves
will recognize as relevant to their lives
be able to use the model to address any future contentious issue that may arise in the school.
possess a model that will serve them for the remainder of their teaching careers.
feel empowered to deal with their local situation.
have more influence on the children / teens that they have the privilege of teaching
As there is always a chance that a date is available for late booking, immediate contact via email is suggested.
USE THE CONTACT FORM ON THE RIGHT HAND SIDE TO FIND OUT ABOUT DATES AND AVAILABILITY.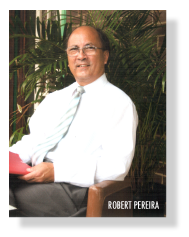 Robert Pereira is an International Educational Consultant and author of "Why We Bully". Robert was educated in Australia and holds a B.A. Dip.Ed. from Macquarie University, Sydney, Australia, and a Masters Degree from Fordham University in New York. He is also one of the National Trainers for the 'Effectiveness Training Institute of Australia' as well as a Member of the Board of Directors.
Robert offers courses on Communication and Conflict resolution to teachers, parents and clergy. He also offers workshops to teachers, parents and counselors to assist them in addressing bullying in a more educational manner. Robert conducts workshops for school staffs throughout Australia, as well as in New Zealand, Korea and Singapore.

Ask About Our Course Enrolments Here:
"Why We Bully" - A 150 page Book by Robert Pereira
AUD $40.00 inc Postage & Handling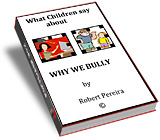 'Why We Bully' is a resource produced by Robert as a result of his classroom lessons with students from ages 5 through to 18 years, over the last 10 years. Bullying is not a new phenomenon. It has taken on new dimensions as a result of the new technology available to us (videos on mobile phones) but the core reasons as to why one child excludes or slanders another is 'as old as the hills,' to coin a phrase. What teachers and parents need to understand and respond to, are these core reasons. Robert's seminars with teachers assists them to elicit these core reasons from children and teenagers
Click the BUY NOW button to buy "Why we Bully" for AUD $40.00 including postage to anywhere in the world
"Why…Just why is MY Child being Bullied" - A 60 page Book by Robert Pereira
AUD $20.00 inc Postage & Handling
Click the BUY NOW button to buy "Why we Bully" for AUD $20.00 including postage to anywhere in the world